Tecumseh Introduces Tauri Condensing Unit at FEBRAVA 2023
Tecumseh Introduces Tauri Condensing Unit, New Lines of Compressors, and Receives Innovation Seal at FEBRAVA 2023
Tecumseh launches Tauri, a robust and durable condensing unit platform for commercial refrigeration applications up to 15HP, and showcases new lines of compressors for the Latin American market at FEBRAVA 2023. Tecumseh receives Innovation Seal by FEBRAVA for energy efficient solutions.
(ANN ARBOR, USA) Tecumseh Products Company LLC, a global leader of commercial refrigeration, will exhibit at FEBRAVA 2023, which takes place from September 12th to 15th, at the São Paulo Expo in Brazil. FEBRAVA 2023 is the 22nd edition of semi-annual industry expo for commercial refrigeration and air-conditioning in Latin American market. This event is highly anticipated as it is the first event since the pandemic. Tecumseh will exhibit a series technology innovations and new compressors and condensing unit solutions to address rapidly evolving demands of the commercial refrigeration and air-conditioning segments. 
Ricardo Ferreira, Managing Director of Latin America at Tecumseh, said "demand to innovate cooling solutions are constantly evolving in Latin America. From commercial refrigeration to air-conditioning to DC-powered refrigerated transport, Tecumseh has made significant investment in advancing our technology offerings. We value FEBRAVA as the ideal environment for us to present our experience and competence to our customers directly".
One of the main product launches at FEBRAVA 2023 is the Tauri condensing unit platform, ranging from ¾ to 15HP for medium and low temperature applications. It is an ideal platform for commercial applications that demand robustness and durability. Tauri is specifically designed to be slim and compact, and is suited for installations where the physical space is limited, such as cold room and milk tank applications. Designed for applications up to 43°C ambient temperature, it is the most versatile option for a range of other chilled and frozen applications as well.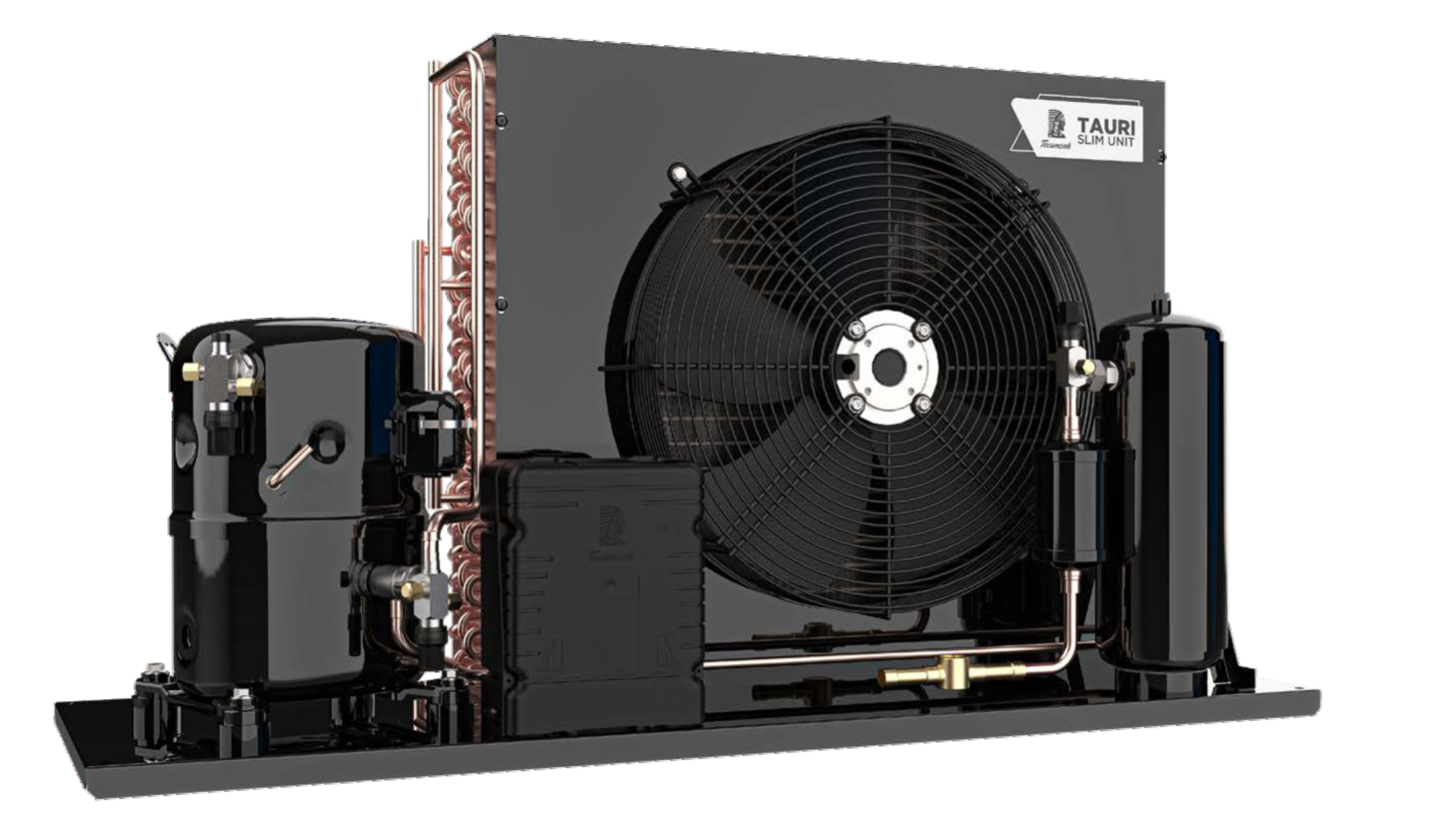 Tauri's technical design features a copper and aluminum condenser, the most suitable option for harsh environments. The heart of the unit is Tecumseh's highly reliable commercial application compressors which were originally designed by L'Unite Hermetique. Their historically well-known reliability and durability remain the same today and guarantee the industry-leading efficiency and the cost-effective values in the entire capacity range up to 15HP, with medium and low temperature versions, operating between +10°C to -30°C of evaporation.
In addition to Tauri, Tecumseh will exhibit a series of innovations in reciprocating and rotary compressors for refrigeration and air conditioning applications, such as "TC-OptX", the latest addition to the TC platform with the extended range for light commercial applications, and VR2, the variable-speed, air-conditioning compressor.  
"We are very excited to re-unite with our current customers and for the opportunity to build new business. We are ready to have face-to-face discussions about commercial opportunities and joint development. It allows us to identify new application possibilities for our products and technologies," Ferreira mentioned.
The followings are some of the highlights that will be presented at Tecumseh's booth (#F75), which will be located on the corner between the two main entrances to the fair:
TC Optimized
The TC-OptX compressor platform is the second generation of "Opt" or "Optimized" version. The "OptX" or "Extended" version reaches expanded capacity. Due to its high efficiency, it is a highly recommended compressor platform for R-290 L/MBP light commercial applications, from beverage displays to commercial breweries and freezers. Its features make it the preferred choice for major manufacturers and brands looking for reliability, efficiency and cost-effectiveness.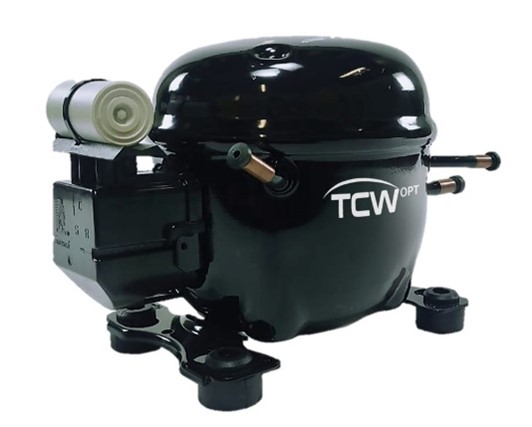 AL Compressor
The "AL" Series Compressor is the most efficient ON/OFF compressor in its range of commercial refrigeration applications. It reduces energy consumption by up to 15% compared to other compressors available on the market with R-290 (Propane) refrigerant. Ideal for applications such as refrigerated showcases, vertical displays, frozen food islands and ice machines, the compressor has extended cooling capacity up to 3,200 Btu/h in LBP and up to 6,200 Btu/h in MBP.
One of the new versions of the AL compressor utilizes NTC technology, which eliminates the need for an electrical box for its operation, making it a compact, versatile and cost-effective option.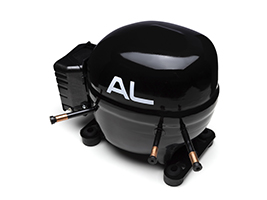 VR² Compressor
Tecumseh's VR² inverter compressor is the ideal option to ensure efficiency and performance in air conditioning systems, as it is the only variable speed compressor manufactured in Brazil to reach the "Class A" standard of energy efficiency, which is required by Inmetro*. In tests carried out by Tecumseh, the VR² proved to be up to 45% more economical than the conventional rotary compressor.
* Standard ISO 16358-1 (CSPF), effective from Jan/23.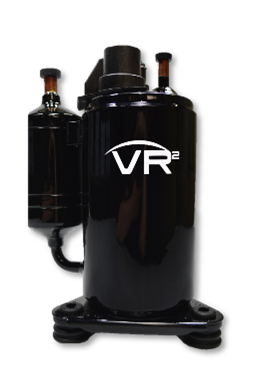 FEBRAVA Innovation Seal
Tecumseh has been awarded for the FEBRAVA 2023 Innovation Seal. FEBRAVA issues the award to manufacturers by recognizing achievement, dedication and significant contributions to research and development of technologies and innovative solutions.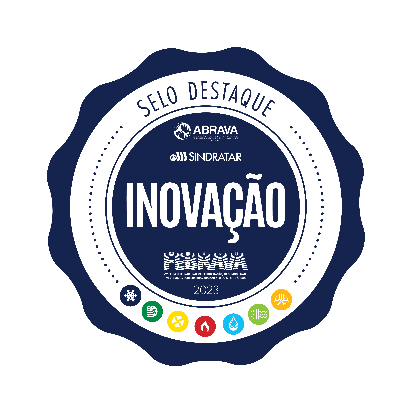 New website
Tecumseh has recently launched its new website. The website has a new application search tool that will allow viewing the product catalog based on relevant applications for the respective companies and contractors. Product search has also been improved. With new search fields that will improve the user experience by filtering by product attributes, it makes it possible to use filters based on compressor family, refrigerants, voltages, displacements and much more. Learn more at www.tecumseh.com.
About Tecumseh
Founded in 1934, Tecumseh Products Company LLC is a leader of commercial refrigeration technology offering hermetic reciprocating, rotary and scroll compressors ranging in capacity from 1/15th to 30 horsepower, as well as a complete line of condensing units and systems for use in residential and commercial refrigeration and air conditioning applications. Tecumseh products are manufactured on four continents and sold globally through a network of sales professionals, authorized wholesalers and licensed distributors offering brand names that include: AE®, AE2®, AW®, Celseon®, L'Unite Hermetique®, Masterflux®, Silensys®, and Wintsys®. Tecumseh Products Company LLC is headquartered in Ann Arbor, Michigan.