Tecumseh Introduces Energy Efficient TC Series Compressors with R-290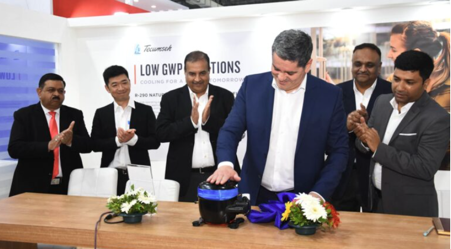 Tecumseh Products Company announced the launch of expanded "TC" Series compressor platform with R-290 refrigerant for the India market. The new TC compressor models are optimized for R-290 refrigerant and is designed to deliver high efficiency for L/MBP applications in light commercial refrigeration ranging from 3cc to 8cc. Tecumseh India showcases these innovative compressors at the Acrex India 2023 tradeshow, which is held between March 14-16th at BEC Mumbai.
MUMBAI, 14th MARCH, 2023 (GPN): Tecumseh Products Company LLC, a global leader of commercial refrigeration, is expanding its TC Series compressor platform to include models with Propane R-290 refrigerant for the India market. The new TC compressor models, ranging from 3cc to 8cc, are optimized for L/MBP applications and utilize R-290 natural refrigerant. They are ideal solution for refrigeration manufactures that are looking for sustainable solutions with low global warming potentials.
The new TC compressor models are designed to operate in voltage and high ambient conditions in India. Its compact size and quiet operation make it an ideal solution for small to medium-sized commercial refrigeration systems, such as deep freezers and bottle coolers.
The compressor's advanced motor technology ensures high efficiency and reliability, which translates into lower operating costs and improved performance. It provides end-users a sustainable and cost- effective option for their refrigeration needs.
"At Tecumseh Products India, we are committed to providing innovative and sustainable solutions for our customers to meet energy regulations and environmental norms", said Sandeep Chaudhry, the Managing Director at Tecumseh India . Venkatesh Pendam, Sr. Vice President of Tecumseh India said, "The launch of our globally proven TC platform with new R-290 refrigerant models is an exciting step for our India market. We are planning to continuously expand our R-290 compressor portfolio in coming years to meet evolving needs of our customers."
The new R-290 models of the TC Series are now available and are backed by Tecumseh Products India's comprehensive warranty and customer support services. With their advanced motor technology, energy
efficiency, and environmental benefits, the new TC Series with R-290 refrigerant is a game-changer in the commercial refrigeration in India and provides businesses with a sustainable and reliable solution for their refrigeration needs.
About Tecumseh Products Company LLC
Founded in 1934, Tecumseh Products Company LLC is a leading global manufacturer of hermetic reciprocating, rotary and scroll compressors ranging in capacity from 1/15th to 30 horsepower, as well as offering a complete line of condensing units and systems for use in residential and commercial refrigeration and air conditioning applications. Tecumseh products are manufactured on four continents and sold globally through a network of sales professionals, authorized wholesalers and licensed distributors offering brand names that include: AE®, AE2®, AW®, Celseon®, L'Unite Hermetique®, Masterflux®, Silensys®, and Wintsys®. Tecumseh Products Company LLC is headquartered in Ann Arbor, Michigan.Special Message. (N/A)